In every vacation spot and in every city there are a few things that you should have experienced after your departure. This also applies to Santorini, a small island in Greece with around 17,000 inhabitants. While you might not expect it, you can get lost without proper planning. That's why I want to give you some tips on what's best to do when discovering one of the most beautiful islands in the world!
The Fira is the heart of Santorini and is actually very busy at times, as there are many cruise ships that pick up and drop off tourists at the port every day. You may have seen pictures of Fira, with its white color, lying on the edge of a volcano. So you should definitely visit and explore this beautiful area.
Over time, Fira has grown together with Firostefani and Imerovigli, which you can also easily reach from Fira. Here you can take the cable car or a donkey to the famous harbor, visit the Catholic Cathedral of St. John or just enjoy the great view over the sea and the caldera in one of the many authentic restaurants and cafes.
2. Experience the sunset in Oia
With the most beautiful sunset on the island, we recommend Oia, probably the most famous city and one of the best sights of Santorini. The small port of Oia, called Ammoudi, may not have cruise ships, but many tourists still come here to take pictures of the beautiful sea views and the blue roofs of the white buildings. There are only about 230 steps to get down to the harbor, so if you have time, take a closer look at the harbor. The restaurants in Ammoudi also serve fresh fish that you should definitely try!
It's a good idea to also visit the local castle if you want to get a feel for historical Greece. Afterward, a coffee with a view is a real way to while away the last hour here, and at a great price, although Oia town is generally more expensive than Fira.
Quads have become a popular form of transport in Santorini, although many places can be easily explored on foot. However, there are steep roads and mountainous areas that can be a bit tiring. You can take one more person with you with the quad and only pay around € 30 per day. Since even the locals use quads a lot, ask them for tips on the best stores to rent quads! With the quad you can easily find parking spaces and generally have fewer problems on the small roads, as the vehicle is very dynamic and easier to control than a car.
4. Visit the archaeological sites of Akrotiri and Old Thera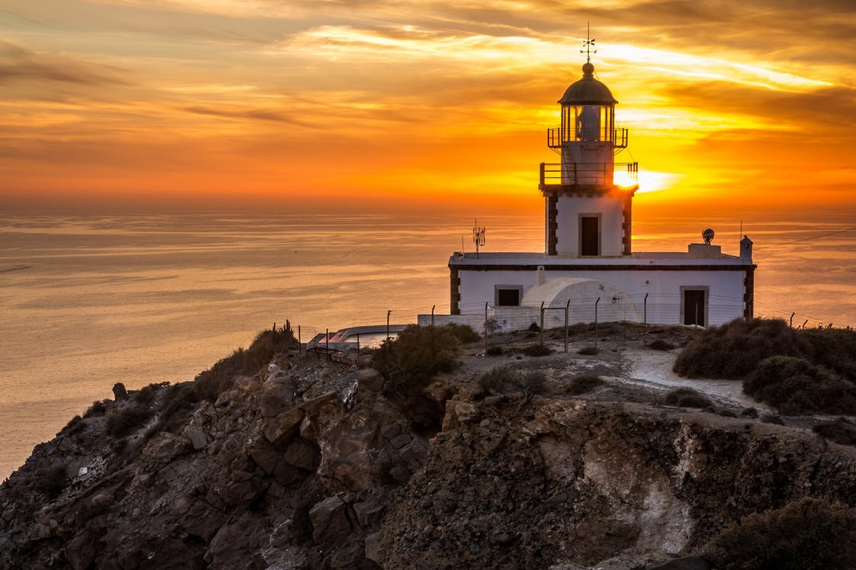 Greece has many ancient excavations, but the best that can be seen in Santorini are definitely Akrotiri with the Faros lighthouse nearby and Ancient Thera, which can be found on the 370 meter high mountain Mesa Vouno. Akrotiri is a more popular place for tourists because of its accessibility and the fact that the place is surrounded by a building that protects against heat. The Old Thera also has its advantages, as there is not only an interesting archaeological site to see, but also another great view with a different perspective of the sea and the places Kamari and Perissa. However, if you want to see Ancient Thera, be prepared to do a little bit of climbing, which is definitely worth it and is one of the best things to do in Santorini.
If you see Akrotiri, I recommend you to also see the so-called Red Beach or "Paralia Kokkini". You can easily get there on foot from Akrotiri. The beach's name derives from the red lava rocks that surround the beach. Although it is not an ordinary sandy beach, the bottom is partly made up of dried seaweed, which makes it a comfortable place to lie and, with its particular color, definitely a unique place to see. Many people also come here to swim, so bring appropriate clothing!
6. Explore Pyrgos Kastillis
The village of Pyrgos is the highest place on the island and offers not only great views, but also many small, pretty streets. Even if Santorini often seems to have a lot of ancient elements, the front part of Pyrgos is quite modern. On the other hand, the back part is rather sleepy and you could have the feeling that time has stood still here. Definitely worth a short walk as you can see sides of the village that you would not otherwise have expected. So take your time and check out Pyrgos Kastillis!
7. Lounger on the volcanic beach of Perissa / Perivolos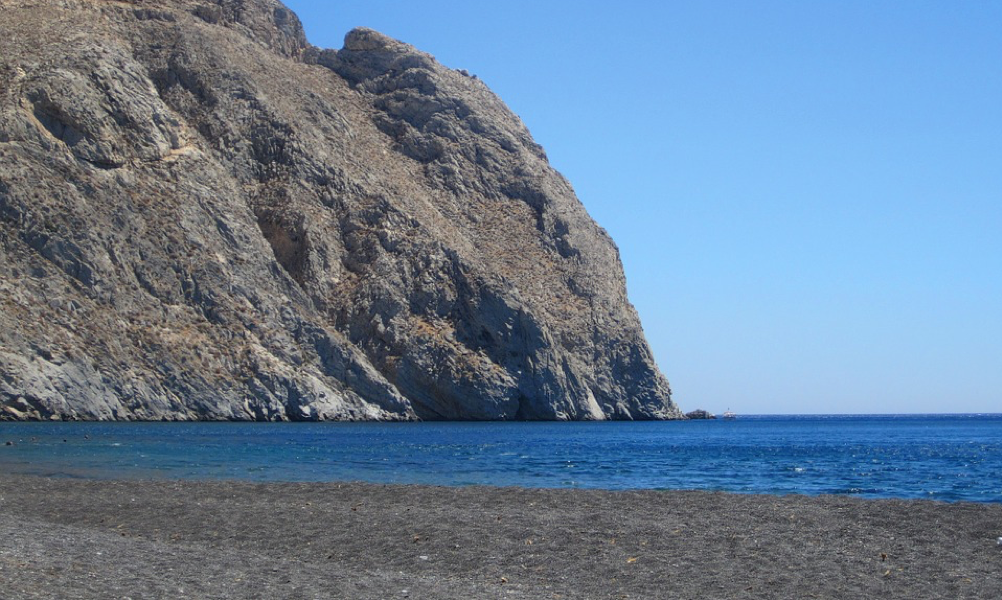 Perivolos is a small district of Perissa that also has a very popular volcanic beach which is a perfect place to sit back and relax! The beach stretches for several kilometers and offers you not only a black beach with volcanic sand, but also an extremely clear sea in which you can swim wonderfully. There are plenty of places to eat and drink on the boardwalk after spending a few hours in the sun. What is remarkable here is that the entire beach area is very clean and the locals really go out of their way to maintain it.
The bars and cafes in Santorini offer everything from coffee, cold drinks and ice cream, but I recommend you also try the local smoothies and milkshakes to enjoy the easygoing life in Santorini and just relax. You might not expect it, but Santorini residents also know how to create different combinations of fruits, nuts and juices that together create a unique taste. Whatever you call it, there are countless delicious drink creations that you absolutely must try. You will not regret it!
If you are thinking about visiting Santorini, we hope that the tips above will give you an incentive to pack your bags and have a new experience. The island is really beautiful, with friendly locals and their many activities. I hope you enjoy hiking the old caldera and hope that you will experience many of the best things to do in Santorini!