Interior design photography in and around Frankfurt
Interior design photography is the art of showing off the beauty of rooms and furnishings to their best advantage in photographs.
The difficulty of choosing the right perspective to find the right angle can make this type of photography a more complex task than it may seem at first.
Professional photos facilitate distribution on websites and specialist magazines - which place particular emphasis on high-quality images when highlighting your business or property. In addition, it is of course possible to attract the attention of guests in this way. A tourist, for example, observes various aspects when doing research on the Internet that influence his decision about where to stay. With this in mind, photographing the architecture and interior can make a good impression on potential guests.
It can also serve to highlight the hotel or guest house and strengthen the institutional image. High quality interior design pictures can make a huge difference when it comes to attracting and attracting new customers to a particular property. This makes these photos an essential part of the decision-making process of those looking for holiday accommodation or buying / renting real estate.
However, it is the expertise behind photographers' lenses that enables them to create a valuable resource for promoting your business.
Getting the right photos takes several important factors in mind. The main thing is to highlight important points in a certain area without misleading the customer. Therefore, these types of photos must not be edited so that they do not differ too much from the real room, otherwise the future viewing will lead to disappointment for the customer and you will lose credibility as a company.
In interior photography for hotels or real estate, realistic images must be created with wide-angle lenses so that the maximum of what the premises have to offer can be shown on the images. The right use of lighting creates stylish and cozy spaces that are more appealing and can attract potential customers.
Photographing interiors for professional or artistic purposes is challenging, but extremely rewarding at the same time.
There are several factors that need to be considered. Interior design photography is very different from photographing landscapes, activities or people. If the main element of the photo is the room itself, then completely different aspects have to be considered, such as the combination and harmony between objects and the intelligent use of light.
It takes a keen eye to spot interfering factors such as stains on the carpet, dents on the sofa cushions or fingerprints on the windows that can affect the harmony of the picture. An experienced interior design photographer is therefore able to depict a room and its interior design with the right angle and the correct use of light sources in high quality and truthfully in his pictures.
High-dynamic-range imaging
5 pictures in one
High Dynamic Range Imaging is a technique used in photographic imaging to reproduce a wider range of brightness than traditional digital imaging or photo techniques. This allows areas such as windows and bright surroundings to be integrated into the picture in a way that corresponds to natural perception.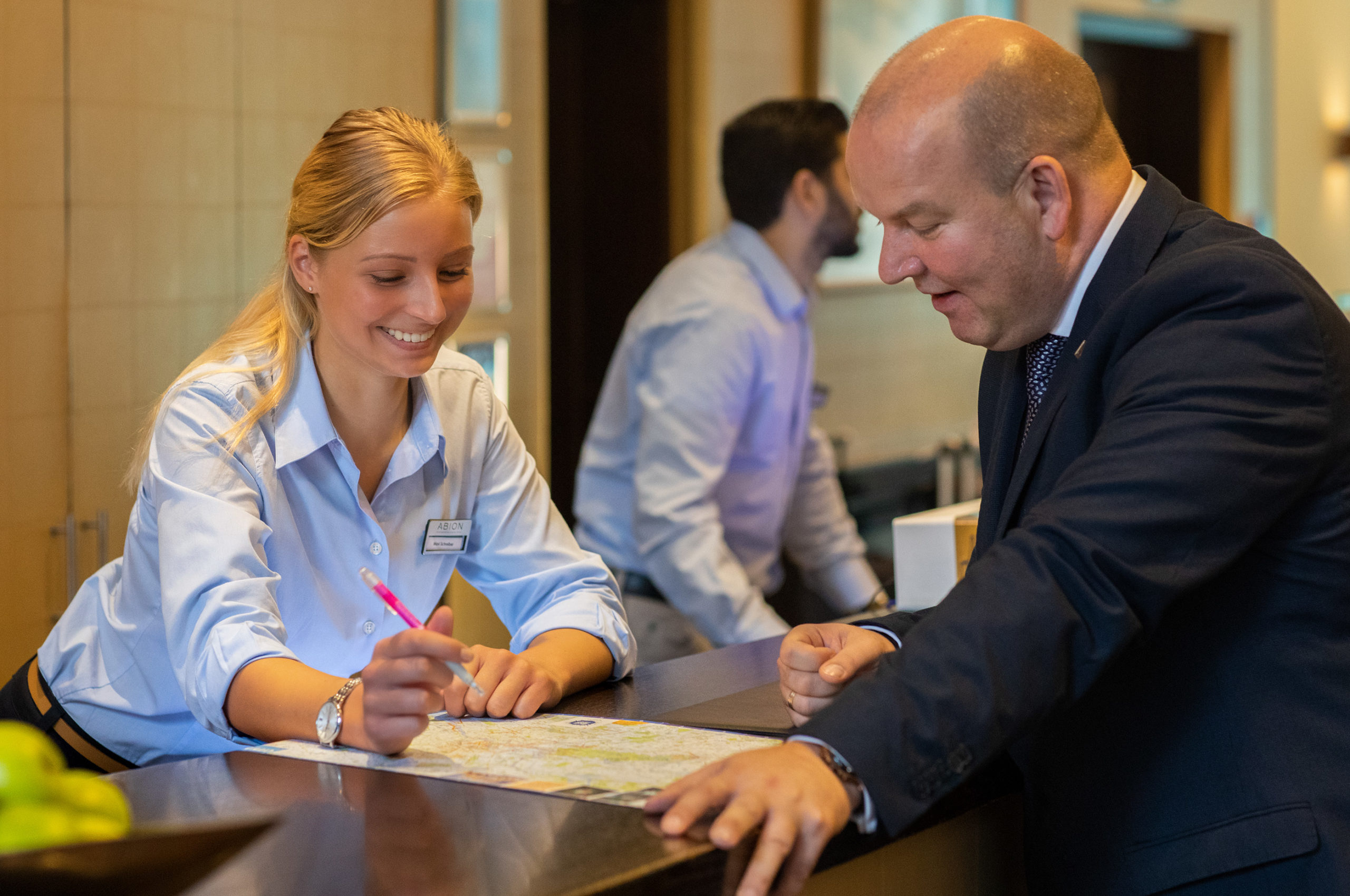 Gaining the trust of potential customers
Pictures of your employees, showing them in their daily work in your company, can help win the trust of potential customers. Recordings that show a constructive working atmosphere that radiate authenticity and friendliness generate positive expectations regarding future cooperation. With team photos, your customers can establish a connection to your employees more quickly, as the customers get to know the face of your contact person in advance.
Professional videos in portrait format
Instagram story teaser
Instagram Stories are a great way to interact with your audience in a hassle-free way. Statistics say that in 2017 more than 300 million people viewed Instagram Stories every day.
In fact, in 2020 Instagram Stories will be perceived as an essential part of the marketing of any account. The engagement rate for regular posts was found to have dropped significantly since then. The Instagram story engagement rate, on the other hand, has remained very high or has even increased.
Potential customers convince with moving images
Location video trailer
Give your guests an insight into your premises. In this way, they convey trust and potential customers can already get a virtual impression. The easier it is for potential customers to build trust through the insight, the greater the likelihood that they will come to you. The greater part of human communication is non-verbal, take advantage of this for yourself.
During our stay in Santorini we spent 4 nights in Kivotos Santorini. It was our first time on the island and we weren't exactly sure what to expect from ...
Patrick Schmetzer ist ein Fotograf für Luxushotels, der verschiedene Reiseziele und einige der besten luxuriösen und historischen Hotels der Welt fotografiert hat. Patrick hat alles fotografiert, von Gebäuden im Innen- und Außenbereich bis hin zu Restaurantküchen mit Michelin-Sternen. Er ist in Alabama USA, geboren und aufgewachsen. Als Teenager zog er nach Frankfurt am Main und studierte an dem SAE Institut in Frankfurt. Patrick fotografiert am liebsten bei natürlichem Licht. Er perfektionierte mehrere innovative, hochmoderne Fotografie- und Beleuchtungstechniken, um ikonische Hotelfotos einzufangen. Patrick liebt die schönen Dinge des Lebens, einschließlich Reisen an exotische Orte.
Resorts auf der ganzen Welt
Patrick und sein Team decken die Bereiche Architekturfotografie, Exterieur, Interieur, Umgebungsporträts von Hotelpersonal, lokale Erlebnisse und Touren sowie geografische Angaben ab. Das Junge Team besteht aus Beleuchtungsexperten, Art-Direktoren, Designern, digitalen Redakteuren und Journalisten mit dem Ziel, den richtigen Look, das richtige Feeling und die richtigen Informationen für Immobilien zu erreichen. Sie bieten einzigartige Dienstleistungen an , um Aufträge für die Fotografie von Luxushotels weltweit auszuführen.
Hotels die Geschichten erzählen
Patrick hatte das Glück, verschiedenste Hotels zu fotografieren, von brandneuen Multi-Millionen-Dollar-Projekten bis hin zu charakteristischen Traditionshotels, die alle in die Jahre gekommen sind, aber in der heutigen Zeit immer noch einen hohen Stellenwert genießen. Patrick sagt: "Für ein Hotel mit einer langen Geschichte habe ich einen ganz besonderen Platz in meinem Herzen." Geschichte entsteht im Laufe der Zeit. Sie ist nicht greifbar. Im Gegensatz zu Luxusgütern ist sie etwas, das man mit Geld nicht kaufen kann.
Die Perfekte Lage
Die Hotellage ist sehr wichtig, wird aber oft übersehen. Dies ist eines der Elemente der Hotelfotografie. Ein wichtiger Schritt beim Fotografieren eines jeden Ortes ist es, nicht nur das Wesen des Hotels selbst zu zeigen, sondern auch seinen Standort – das Ziel des Gastes – in den Mittelpunkt zu stellen und fotografisch festzuhalten.
Patrick Schmetzer
Creativity is a very important part of my life. It is the discovery, the holding on, the letting flow of what the heart feels and sees in a certain moment, it is the experience, the understanding, the learning and essentially the practice of the freedom of being, of living, of thinking.
Born in February 1990, USA. Living in Frankfurt am Main. Photography & film has been my hobby since I was 14 years old. Since 2014 I have been professionally dedicated to photography & videography.
Do you have any questions or are you looking for a photographer for interior design photography near Frankfurt am Main?
Contact me!
I look forward to getting to know you and your project!
Contact me