Photos transport images, information, moods, memories and much more.
With good photography, everyone can individually capture experiences, their own youth, the wedding, the first smile of their own children and the happy glow of the grandmother.
Photography can be used in all areas. Private, business, in advertising or for documentation.
Here you will get the professional service you have been looking for.
Moving images and sound. A video clip combines visual and acoustic impressions impressively for the viewer. Within a few seconds, information, statements and reports can be conveyed like with no other medium.
Whether trailers, image films or reports - you have the possibility to transport statements quickly and extremely effectively.
In video, the media techniques of sound, sound design and image processing complement each other. I would be happy to inform you about the possibilities of using this technology for you.
Sound Engineering & Sound Design
No concert without balanced sound, no presentation without a clearly understandable microphone voice, no stage show without well-mixed voices, music and additional sound effects.
Sound design as stand-alone effects, as an additional mixer at events, as an acoustic highlight in a slideshow or video clip.
The clever combination of good sound engineering and effectively applied sound design is more than the sum of the individual components and makes the small difference.
Graphic design is the art and practice of planning and projecting ideas and experiences with visual and textual content. The form of communication is physical or virtual and can include images, words or graphic forms. Whether for commercial, educational, cultural, or political purposes, graphic design is used in many fields today. All artifacts of a commercial or institutional brand, such as a business card, flyer, logo, website or banner, are individual expressions of design. I specialize in relating these expressions to your brand. Each of my products aims to capture the viewer's immediate attention, create a visual context, and thereby create a high level of recognition.
Photography means art. It is like a painting whose colors, contours, patterns or faces invite us to look deeper. We make a "picture" of it, whether consciously or unconsciously.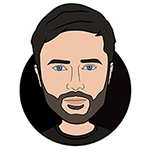 Patrick Schmetzer
Multi media designer